The Kaizen Institute NZ

Town Centre Dr
Level 1, Fashion Pavilion
East Tamaki
Contact: Danie Vermeulen,
CEO
Phone: 09 274 0829
SEND MESSAGE
VISIT WEBSITE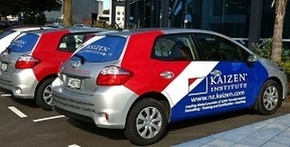 The Kaizen Institute for all your Lean training, consulting and coaching needs. Kiwi-owned Kaizen Institute NZ is based on your doorstep in Botany Town Centre. We offer one-stop world-class Lean training and consulting support. We introduced the Kaizen methodology to the world in 1985 through our founder, Masaaki Imai. Today Kaizen Institute is a global consultancy, active in all industry sectors with more than 400 experienced Lean professionals in more than 30 offices around the world. We welcome visitors to our office to see first-hand how we apply Lean thinking in our own processes. We offer a sought-after, globally recognised Kaizen certification programme that can be achieved through scheduled public courses at our Botany office. We also offer tailored in-house programmes to help leaders transform the culture of their organisations through continuous improvement of people, processes, and systems. The same certification is possible via this in-house training option.
Are you new to the Lean journey but unsure where to start? We can help you choose a proven path to sustainable success.
Are you already on your Lean journey, but losing momentum or at a performance plateau? We can help you reach the next level of Lean performance.
Are you advanced in your Lean journey and ready for the next big breakthrough? Our decades of Lean implementation experience will renew your vision and re-engage your team.
We would love to meet with you to understand your requirements and to explore how we can support you. Please contact Peet (pwiid@kaizen.com) or Danie (dvermeulen@kaizen.com) to arrange a visit. More information is available on our website www.nz.kaizen.com.